"All About My Mom" Free Printable Worksheet For Kids!
A Mother's Day Questionnaire that makes the perfect FREE keepsake gift!
With Mother's day around the corner, I thought of making this "All About My Mom"printable worksheet for kids to fill out.
A Mother's Day questionnaire is a fun FREE gift that any mom will love – because kids say the darndest things!
So on this Mother's Day find out what your kids have to say about you!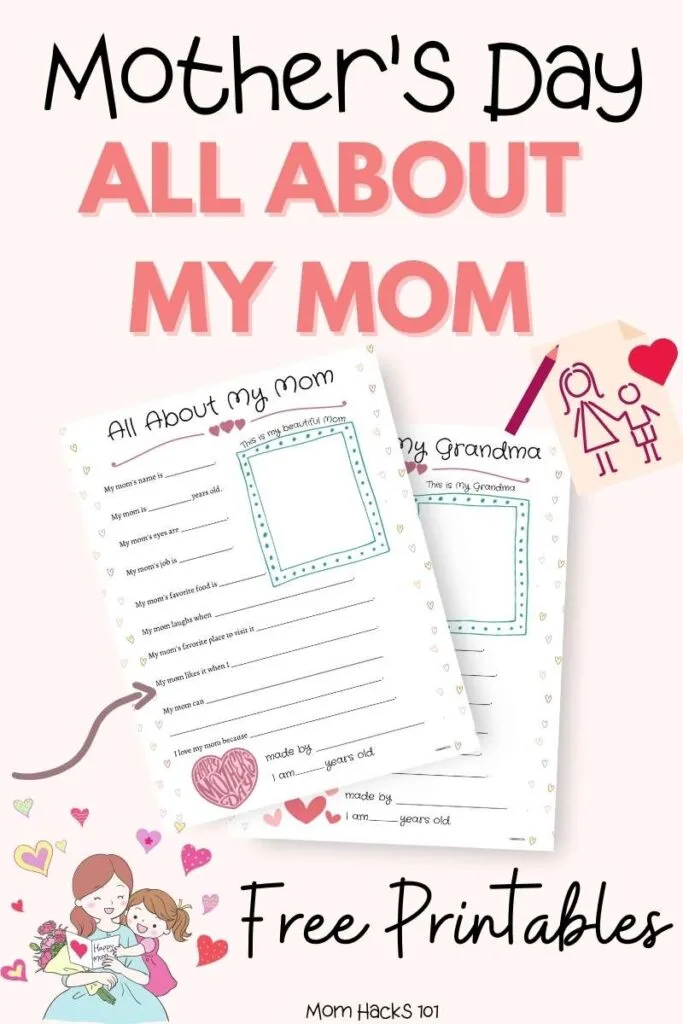 All About My Mom – Mother's Day Questionnaire
Nothing is more fun than reading kid's answers when asked questions all about mom.
This mommy questionnaire includes:
a portrait area for kids to draw a picture of mom or to add a photo
questions for kids to explain what their mom looks like
questions about mom's favorite things
and most importantly, there is a space for kids to write why they love their mom
The best part about this printable worksheet is that it lets kids get creative with their answers.
We all know that kids say some funny things that you will want to remember someday.
Plus, there will probably be some really sweet heartfelt responses that will make any mom feel extra special.
All About My Mom Worksheet
When my kids filled out this mom worksheet, I really got a kick out of their answers.
When asked "what is mom's job?" my kids gave some pretty good answers.
My youngest child said I was a superhero, my middle child said it was my laptop, and my oldest child said my job was making sure my kids were happy.
Their other answers were the perfect mix of hilarious and heart-warmingly sweet.
That is why this all about mom worksheet makes the perfect Mother's Day keepsake gift.
The best part about FREE mom printables is you can print them out again and again.
As kids grow older and their personalities change, this printable can be printed and filled out every year to see how much your kids change.
All About My Mom Free Printable
So if you would like to use this "All About My Mom" free printable for your kids or even for your classroom, you can find it in the FREE Resource Library for my email subscribers.
Once printed out it can be framed to put on display or just hung on the refrigerator.
Or you can just add to your keepsake box of memories and art projects that your kids have created throughout the years.
As an added bonus, I have added an "All About Grandma" printable in the resources library, that way no one is left out this Mother's Day.
For more Mother's Day ideas, check out this list of Unique Gifts Moms Really Want!
Plus, if you want to ask your kids more fun questions check out this list of 101 Fun Questions To Ask Kids.
Let me know in the comments what funny and heartfelt things your kids said.